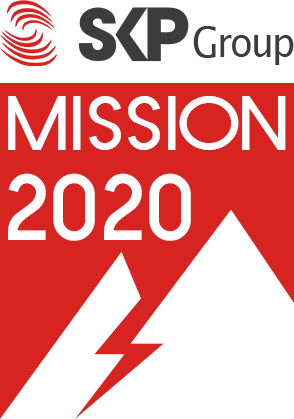 SKP Group makes its Mission and Vision Statement aligned to the Mission 2020 Programme, Mission 2020 Speaks about the Goals and Objectives of the Clients/companies we are associated with, along with their Plans for the next 5 years, we have keen interest in the client's 5 years Aims, Plans and Strategies to be followed, Mission 2020 should guide the actions of the organization, spell out its overall goal, provide a path, and guide decision-making, along with the same, clients role to go Global.
The Mission 2020 Programme speaks about an organization's Values, its potential and its strategies to serve all its customers in an error free and timely manner and provide outstanding customer service at every contact point.
On SKP group's end, we plan to sign off with clients and take them forward aligning with their 2020 plan, indulgent to the push for success, we identify for the clients the best ways to move forward using the best tools to achieve their Mission 2020.
We make sure we bring to front the importance to going global, finding for the clients the best possible approach and plan on how to go Global.
SKP Groups keep Its CORE VALUES as a standard to achieve its Mission 2020
Accountability – Acknowledging and assuming responsibility for actions, products, decisions, and policies. It can be applied to both individual accountability on the part of employees and accountability of the company as a whole.
Balance – Taking a proactive stand to create and maintain a healthy work-life balance for workers.
Commitment – Committing to great product, service, and other initiatives that impact lives within and outside the organization.
Community –Contributing to society and demonstrating corporate social responsibility.
Diversity – respecting the diversity and giving the best of composition. Establishing an employee equity program.
Empowerment – Encouraging employees to take initiative and give the best. Adopting an error-embracing environment to empower employees to lead and make decisions.
Innovation – Pursuing new creative ideas that have the potential to change the world.
Integrity – Acting with honesty and honor without compromising the truth
Ownership – Taking care of the company and customers as they were one's own.
Safety – ensuring the health and safety of employees and going beyond the legal requirements to provide an accident-free workplace.
We at SKP believe in cultivating Long Term Professional Relationship with clients, educating clients and potential customers on identifying their own extra ordinary potential. Especially in this competitive world, having them find, the right gate way to success and glory.